About our Macromodel
Nisshinbo Micro Device offers free use of Macromodel for easy circuit design. Before using this service, please agree with the terms of use listed below. Tools covered by this service are OrCAD Capture and PSpice.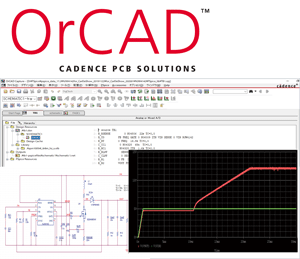 [The industry-standard in schematic design entry because of the intuitive interface and rich feature set] OrCAD CaptureR design entry is the most widely used schematic entry system in electronic design today for one simple reason: fast and universal design entry. Whether you're designing a new analog circuit, revising schematic diagram for an existing PCB, or designing a digital block diagram with an HDL module, OrCAD Capture provides simple schematic commands you need to enter, modify and verify the design for PCB.
PSpiceA/D
Advanced simulation for analog and mixed-signal environments
Designers utilize PSpiceR simulation solutions for accurate analog and mixed-signal simulations supported by a wide range of board level models. Since the inception of the PSpice simulator in 1985, PSpice has been continuously enhanced by expanding its portfolio of technologies supporting the latest hardware and operating systems. Each subsequent release has addressed numerous technological advances and customer requests for enhancements.
Please carefully check the "Macromodel_Terms of use" and download the data only if you agree to them.

Your downloading implies that you agree to the "Macromodel_Terms of use".
About Macromodel - Terms of use -
1.Introduction
Our Macromodel (for use with PSpice) is a simulation program and not for use in actual product operation. It is not an alternative to the actual product. Please use this Macromodel to assist in the actual product operation check.
2.Special instruction
Nisshinbo Micro Devices is not responsible for changes, omissions, inaccuracies, and designs caused by the product Macromodel. Moreover, Nisshinbo Micro Devices does not take any responsibility if customers use this information for other purposes. Nisshinbo Micro Devices requires customers to take full responsibility for their use of any information acquired through Macromodel. In addition, Nisshinbo Micro Devices does not give consent agreement or patent rights with regards to circuits described in relevant documents.
3.Usage and operating requirements
3-1.Operating requirements
Our Macromodel and related information have been created for use with OrCAD/Pspice, which is produced by Cadence Design Systems, Inc. in the United States. Nisshinbo Micro Devices is not liable for performance of the Macromodel in all computer systems.
3-2.Conditions of use
The product Macromodel should be used under agreement of the conditions contained below.

i. The product Macromodel is offered with product-specific, present quality. Nisshinbo Micro Devices does not take responsibility for Macromodel operation once Macromodel is integrated into customers' circuits or systems.
ii. The product Macromodel is subject to change without notice. Please refer to the latest version of data-sheet or delivery specifications for detailed information regarding each product.
Macromodel File list
The Macromodel files are compressed in a ZIP file.(Contents of file: Device Modeling Report (PDF), Macromodel)