SAW Filter
By Application List
PATENT
JP2096558, JP2131273, JP2598110, JP2601543, JP2606708, JP2673993, JP2933171, JP3293671, JP3181158, JP3194849, US4878036, US4973875, US5175519, US5252882, US5471722, US5521453, US5523641
By Frequency List
Center
Frequency
f0[MHz]

Passband
Width
[MHz]

Category

Application

Part Number

Package
Size
[mm]

Notes

0

1

2

3

4

5

6

312.15
1
Automotive
Keyless Entry Systems
NSVS1102
3.0×3.0×1.15


314
1
Automotive
Keyless Entry Systems
NSVS1153
3.0×3.0×1.15


314.85
0.6
Automotive
Keyless Entry Systems
NSVS9012
3.0×3.0×1.15


315
0.6
Automotive
Keyless Entry Systems
NSVS9016B
3.0×3.0×1.15


315
1
Automotive
Keyless Entry Systems
NSVS1154B
3.0×3.0×1.15


322.25
1
Low Power Transceiver
Radio Microphones
NSVS1271
3.0×3.0×1.15


422.2
1
Low Power Transceiver
Transceiver
NSVS1105
3.0×3.0×1.15


426
1
Low Power Transceiver
Transceiver
NSVS1145B
3.0×3.0×1.15


426.42
1
Low Power Transceiver
Transceiver
NSTS1431B
3.0×3.0×1.15


429.42
1
Low Power Transceiver
Transceiver
NSVS1093B
3.0×3.0×1.15


429.42
1
Low Power Transceiver
Transceiver
NSVS1126B
3.0×3.0×1.15


429.42
1
Low Power Transceiver
Transceiver
NSTS9114B

new

3.0×3.0×1.15


433.92
0.4
Automotive
Keyless Entry Systems
NSTS9118B
3.0×3.0×1.15


433.92
1
Automotive
Keyless Entry Systems
NSVS1104
3.0×3.0×1.15


440
1
Low Power Transceiver
Transceiver
NSVS1106
3.0×3.0×1.15


446.05
0.1
Low Power Transceiver
Transceiver
NSNJ2007
3.0×3.0×1.15


465
6
Low Power Transceiver
Transceiver
NSNJ2006
3.0×3.0×1.15


760
9
Automotive
ITS
NSTS9119
3.0×3.0×1.15
High ATT Type
868
4
Automotive
Keyless Entry Systems
NSVS1231B
3.0×3.0×1.15


909
14
Low Power Transceiver
US AMR
NSVS1237
3.0×3.0×1.15
Lower-Half
915
26
Low Power Transceiver
US AMR
NSVS1127
3.0×3.0×1.15


915
26
Low Power Transceiver
US AMR
NSVS1240
3.0×3.0×1.15


921
14
Low Power Transceiver
US AMR
NSVS1245
3.0×3.0×1.15
Upper-Half
921.5
13
Low Power Transceiver
Australia AMR
NSNJ2016
2.0×1.6×0.65


922.5
5
Low Power Transceiver
ASIA AMR
NSNJ2014
2.0×1.6×0.65
CHN/HKG/THA
924
8
Low Power Transceiver
JAP AMR
NSTS1444
3.0×3.0×1.15


924
8
Low Power Transceiver
JAP AMR
NSTS1449
3.0×3.0×1.15


924.5
5
Low Power Transceiver
New Zealand AMR
NSNJ2021
2.0×1.6×0.65


1176.45
20
GPS
GPS-L5
NSVS999
3.0×3.0×1.15


1227.6
20
GPS
GPS-L2
NSNJ9205
2.0×1.6×0.65
High ATT Type
1278.75
10
GPS
GPS-L6
NSNJ9208
2.0×1.6×0.65
Low Loss Type
1575.42
2
GPS
GPS-L1
NSVS1174
3.0×3.0×1.15


1575.42
2
GPS
GPS-L1
NSVS1246
2.0×1.6×0.65
Ultra Low Loss Type
1575.42
2
GPS
GPS-L1
NSVS9013A
2.0×1.6×0.65
High ATT Type
1575.42
2
GPS
GPS-L1
NSTS9110A
2.0×1.6×0.65
Low Loss Type
1582.471
4.092
2.0
8.34
GPS
GPS GLONASS Beidou
NSNJ9200A
2.0×1.6×0.65
High ATT Type
1589.5
32
GPS
GPS+GLONASS
NSTS9116A
2.0×1.6×0.65
Low Loss Type
1589.5
32
GPS
GPS+GLONASS
NSTS9117A
2.0×1.6×0.65
High ATT Type
1902
35.2
PHS
PHS-RF base station
NSTS1437
3.0×3.0×1.15


PATENT
JP2096558, JP2131273, JP2598110, JP2601543, JP2606708, JP2673993, JP2933171, JP3293671, JP3181158, JP3194849, US4878036, US4973875, US5175519, US5252882, US5471722, US5521453, US5523641
Important Notice
Nisshinbo Micro Devices shall confirm the component applying to the following equipments which requiring extreme reliability.
Space equipment (satellites, rockets, etc.)
Sea-bottom equipment (Sea-bottom relay equipment and work equipment)
For Ministry of Defence
Control equipment for mobiles (control equipment for automobiles, aircraft, railway and ships)
Power generation control equipment (control equipment for nuclear, hydraulic and thermal power plants)
Medical equipment (Life-support system, heart pace-maker, artificial dialysis equipment)
Information processing equipment (computers for controlling large-scale systems)
Other equipment similar to the above equipment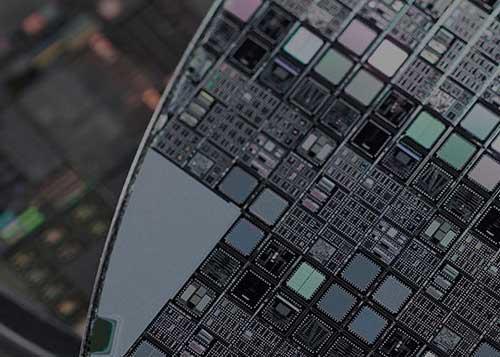 Nisshinbo Micro Devices provides SAW Filter foundry service.
We offer a solution to your various needs, with process development, trial manufacturing and mass production all in Japan.
SAW Foundry
Our Support & Services
Wafer Foundry
Main technologies:
- Dry Etching
Substrates(4-inch)
- LiTaO3
- Quartz
- LiNbO3
- Bonded
Electrodes
- Al/Cu, Ti, Au
- Multilayer Al/Ti
Passivation
- SiO2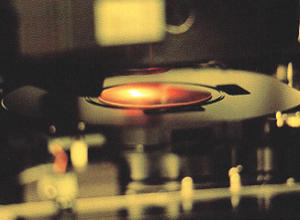 Technology
Lithography

i-line Stepper (L/S;0.40um)
Metallization

High-precision evaporation and sputtering.
Double metal

For chip shrink technology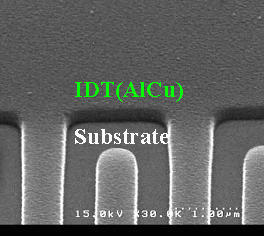 GPS SAW Filter (0.5um L/S)
Double metal process
Measurement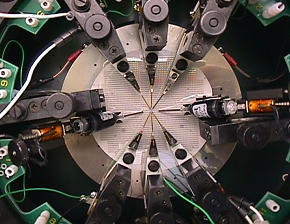 Wafer Measurement
Automatic prober:
- RF / Capacitor
- Random / 100% probing
Automatic visual inspection