New Product: NR1640 Series, Ultra-low noise and High PSRR LDO Regulator with Soft-start Function, Suitable for Use in Automotive Applications
Nisshinbo Micro Devices Inc. has launched a new LDO regulator NR1640 series featuring ultra-low noise, high power supply ripple rejection (PSRR), and a soft-start function, suitable for use in automotive applications.
Overview
Today's automobiles are equipped with an increasing number of advanced driving assist systems (ADAS) and cameras in accordance with the advance of autonomous driving. Sensors included in these devices are required to be able to perform high-accuracy sensing. Especially, sensing performance can be affected by noise superimposed on the power supply to those sensing systems, so power management ICs need to have ultra-low noise and high PSRR characteristics.
The NR1640 series, thanks to the sophisticated wafer process and optimized circuit layout, is a LDO regulator product featuring ultra-low noise and high PSRR simultaneously. With the output noise of 6.0 μVrms and PSRR of 80 dB, the new product will contribute to enhancing the performance of automotive sensors.
Basic specifications are as follows: the input voltage range of 2.7 V to 5.5 V (Rating: 6.5 V); the output current of 200 mA; and the output voltage range of 2.5 V to 4.8 V (0.1 V step, internally fixed version). In addition, it corresponds to a wide operating temperature range of -40°C to +125°C with the output voltage accuracy of ±1.5 %, which enables the IC to operate properly even in harsh environments.
The NR1640 series is suitable for use in automotive sensors inside ADAS such as LiDARs, sensing cameras, driver monitoring systems, etc.
The NR1640 series is manufactured in our Yashiro Plant (Kato City, Hyogo Prefecture). It will be applicable to our Product Longevity Program to let customers use it for a long period without concerns with the product's end of life (EOL).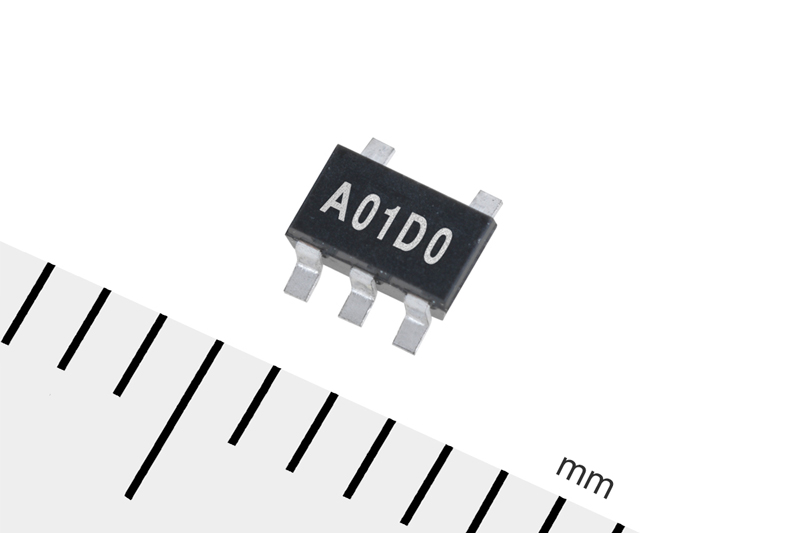 | | |
| --- | --- |
| Product Name | NR1640 Series |
| Sample Price (per 1,000pieces) | JPY 180 (Tax included) |
| Sample Order Start Date | January 18, 2022 |
| Package | 2.9 x 2.8 x 1.1 (mm) SOT-23-5-DC |
| Monthly Production | 1 million |
Features
1. High PSRR and Ultra-low Noise Optimized for Sensing Devices
To maximize the performance of sensors, the NR1640 series features high PSRR and ultra-low noise simultaneously. Especially, for instance, these characteristics affect the image quality of ADAS cameras using a CMOS image sensor significantly. With the high PSRR of 80 dB (f = 1 kHz) and ultra-low noise of 6.0 μVrms, the NR1640 series will enhance the picture quality of those cameras.
These characteristics are also important to power supplies of an A/D converter. The higher the resolution gets to process information from sensors more precisely, the severer the sensitivity of systems against noise gets. For example, in order to perform correctly without any erroneous detection, a 16-bit-resolution A/D converter with reference voltage of 3.3 V will require power management ICs to supply a voltage with a few μV levels of noise.
Ripple Rejection (VOUT = 3.3 V)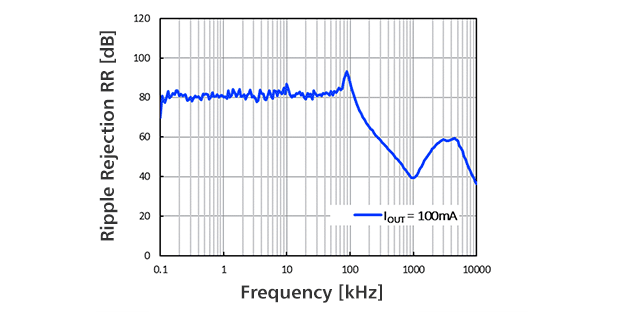 Picture Quality with Input Ripples

NR1640 Output Noise Voltage Effective
Relation between Resolution and LSB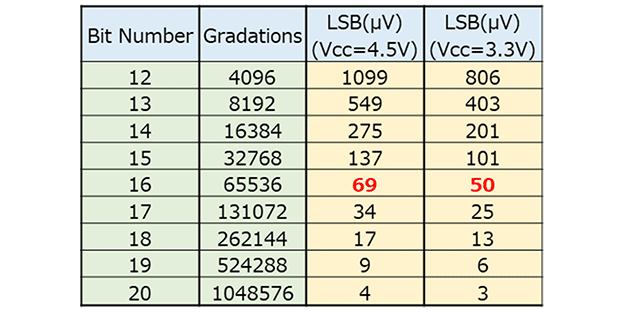 LSB Voltage = 50 μV at 3.3 V / 16 bit
Achieving several-μV output noise is necessary to avoid negative influence on sensing performance
2. User-selectable Soft-start Start-up Time
The NR1640 series has a soft-start function with user-selectable start-up time variations. You can choose from 55 μs/V, 110 μs/V, 220 μs/V, and 440 μs/V. It is useful to control the sequence of devices using multiple power supplies and reduce inrush current.
If load capacitance is large, the new IC can start up output voltage in a fixed slope by limiting inrush current at a certain value. In this case, the start-up will more gradual than that limited by the built-in soft-start function. The soft-start function will also be useful to activate sensing devices prohibiting abrupt supply voltage start-up safely.
User-selectable Soft-start Time
You can choose from 4 variations
Start-up Characteristics with Large COUT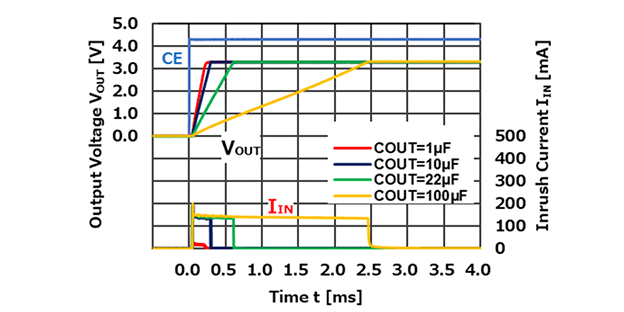 Inrush current reduced even at Large COUT
3. Automotive Quality Grade Optimized According to Applications
We prepare two automotive quality grades to meet your quality requirements. We will propose the quality grade that best matches with your applications and requirements.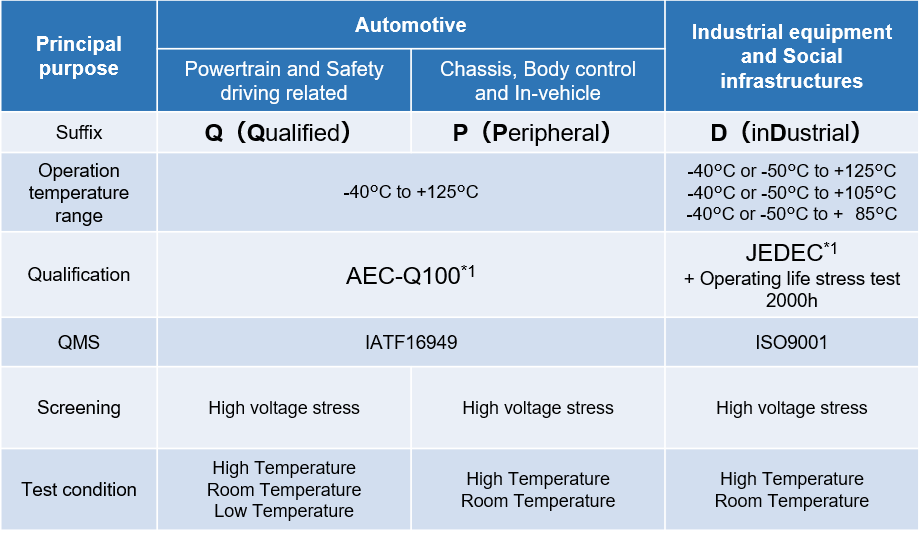 Key Specifications
| | |
| --- | --- |
| Item | NR1640 Series |
| Input Voltage Range (VIN) | 2.7 V to 5.5 V (Maximum Rating 6.5 V) |
| Output Voltage Range (VOUT) | 2.5 V to 4.8 V |
| Quiescent Current | 350 µA typ. |
| Dropout Voltage | 0.2 V max. (VOUT = 3.3 V, IOUT = 200 mA) |
| Ripple Rejection | 80 dB typ. (f = 1kHz) |
| Output Noise | 6.0 µVrms (f = 10Hz to 100kHz) |
| Operating Temperature Range | -40°C to 125°C |
| Functions | Soft-start, Auto discharge, Short-circuit protection, Thermal shutdown |
| Package | 2.9 x 2.8 x 1.1 (mm) SOT-23-5-DC |