Environment Sensing Board for the development of new IoT devices
April 28, 2020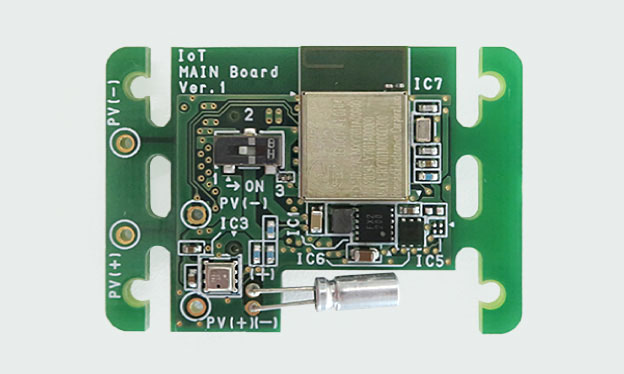 Nisshinbo Micro Devices Inc. in Japan has launched a special circuit board for electronics engineers developing new IoT devices. The RIOT-001 is an environment sensing board that measures the ambient temperature, humidity, air-pressure and illuminance. The data is collected by an MCU and sent by Bluetooth (BLE) to smartphones or tablets with a dedicated application program.
Nisshinbo Micro Devices developed this special circuit board because of the huge interest from the market for our recently launched power management ICs intended for IoT applications. The RIOT-001 contains various power management ICs with an ultra-low supply current and low output noise level. IoT devices require specific functions such as maintenance free operation from an independent power supply, low energy consumption (extending the battery life), high accuracy sensors, wireless communication, small sized components, etc. This new sensor board makes it easier for designers to develop new IoT devices and contributes to shortening the time-to-market, see below block diagram for details.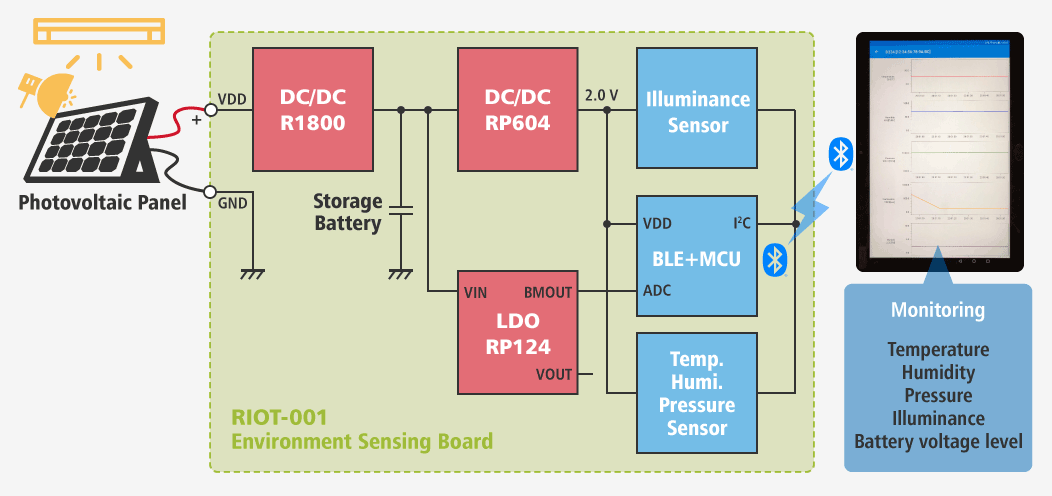 Powered by a Photo-Voltaic Cell
The sensor board is powered by a photovoltaic cell (not included), the electric energy is collected by the R1800 Buck DC/DC Converter for energy harvesting. The converter has an internal maximum power voltage setting to define a voltage level at which the photovoltaic cell produces its maximum power and therefore optimizes the amount of generated power.
The R1800 stores the collected energy in a unique Small Lithium-Ion secondary Battery (SLB) with a capacity of 0.35 mAh, manufactured by Nichicon Corporation. In addition, the IC has a reverse current protection preventing charging loss. Theoretically, when fully charged, the SLB battery can provide power to the IoT board for approximately 20 hours. By using a photovoltaic cell according to the specifications of the RIOT-001 board makes battery-free operation possible, saving maintenance costs for replacing the batteries regularly.
High Efficiency Operation
The SLB battery voltage is measured by an advanced battery monitor embedded in a RP124 LDO. A conventional way to measure the remaining battery charge is using a discrete circuit with an external resistor divider + MOSFET connected to an A/D Converter. However, such a circuit has a considerable high current flow to ground, draining the battery and limiting the lifetime of the application. The RP124 provides a simple solution with a built-in resistor divider and voltage follower as a buffer. As an advantage, this circuit has a much lower current flow to ground and the output is compatible with the input impedance of the A/D Converter. All essential components of this circuit are integrated into the chip, reducing valuable circuit board space and cost.
The RP124 LDO features an ultra-low current consumption of only 0.2 µA (at no-load) and 0.1 µA for the battery monitor. This prolongs battery life, which is important for those applications that are mainly in sleep mode and wake up periodically to perform a task.
Battery Voltage Monitoring with Low Power Consumption
Another RP604 Buck-Boost DC/DC converter is present on the circuit board. With its wide operating voltage from 1.8 to 5.5 V, it regulates the fluctuating SLB battery voltage as it is charged and discharged during operation. The DC/DC Converter achieves a high level of efficiency in both standby and active modes. The purpose of the RP604 is to provide stable power to an on-board MCU, Bluetooth (BLE) transmitter and the four environmental sensors.
Alternative Power Supply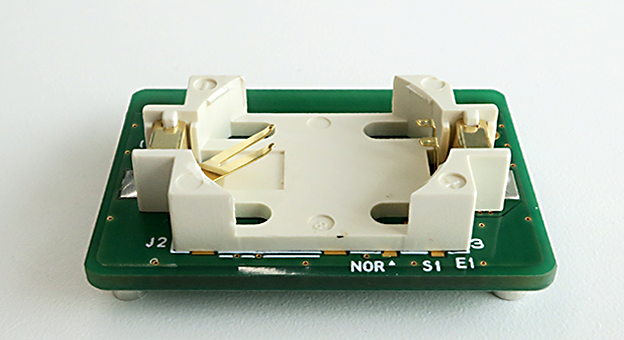 RIOT-C01
There is an alternative power source available if one prefers not to use a photovoltaic cell to supply power the RIOT-001 board. The RIOT-C01 (sold separately) is an add-on board with a CR2032 coin battery and can be attached onto the main board, a pair of connectors to connect the boards is already present for your convenience. Theoretically this board can keep the RIOT-001 board operating for 1.5 years, depending on the sample rate of the measurements. Another second purpose for using the RIOT-C01 is to shorten the initial charging time of the SLB battery, since it takes a while for a photovoltaic cell to charge this battery. In this way, the RIOT-001 board is instantly ready for use when powered up.
Software and Boards
The measurements of the RIOT-001 are send by Bluetooth to an Android tablet or smartphone device, Nisshinbo Micro Devices provides the APK file for installing the application to observe the data from temperature, humidity, air-pressure, illuminance and SLB battery voltage sensors. The circuit boards can be purchased from our authorised online or local distributors.
Features
RIOT-001:
Input Voltage Range
2.0 V to 5.5 V
Output Voltage
2.0 V
Maximum Power Voltage
4.4 V
Secondary (Storage) Battery Charging Voltage
2.7 V
Average Operating Current
Typ. 16.4 µA (wake up every 5 seconds)
Software
Android 7.0 and Bluetooth 4.1 or later recommended
APK file provided by Nisshinbo Micro Devices
Circuit Board Dimensions
35 x 25 mm
RIOT-C01:
| | |
| --- | --- |
| Battery | CR2032 |
| Circuit Board Dimensions | 35 x 25 mm |