RN5U700
USB Type-C Power Delivery Controller
The RN5U700 is an USB Power Delivery controller IC that supports the USB Type-C Connector Specification with having a stand-alone mode to provide automated power-negotiation.
This device has an extensibility to various applications, including Alternate Mode supported by connecting with EC (Embedded Controller).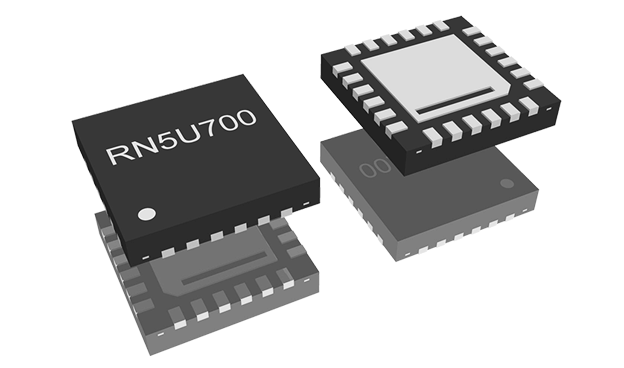 KEY BENEFITS
The firmware's load is minimized by the stand-alone function such as power negotiation with no microprocessor, etc.
External components can be minimized since built-in OVP, high-voltage LDO, VCONN switch and discharger, etc.
Achievement of Low Consumption Current- Typ. 2.8 µA (Deep-Sleep in Standby), Typ. 1.6 mA (in Operating)
KEY SPECIFICATIONS
USB Power Delivery Specification Rev.3.0 Compliant
Protector: VBUS Over Voltage Protection (OVP) / Over Current Protection (OCP), CC Pin OVP, Over Temperature Protection (OTP)
USB Type-C Specification Rev.1.2 Compliant
Supports Dead Battery operation
USB Type-C Port Controller (TCPC) Interface Specification Rev.1.0 Compliant
I2C Interface: Up to 1MHz (Fm+)
Power Role: DRP / Source / Sink
VBUS Input Voltage: 4.5 V to 24 V
Data Role: DRD / DFP / UFP
CC1/2 Pin Input Voltage: Up to 24 V
VBUS Controls: Nch.FET, Pch.FET, Switch IC
Operating Temperature: -20°C to 85°C
TYPICAL APPLICATIONS FOR POWER RECEIVING
APPLICATIONS
Digital Camera, Powerbanks / UPS, Game Machine, Audio Player, Scanner, USB HDD, Power Tool, POS, Security Cameras, Monitoring Camera, Camcorder, Action Cameras, Drive Recorder, etc.